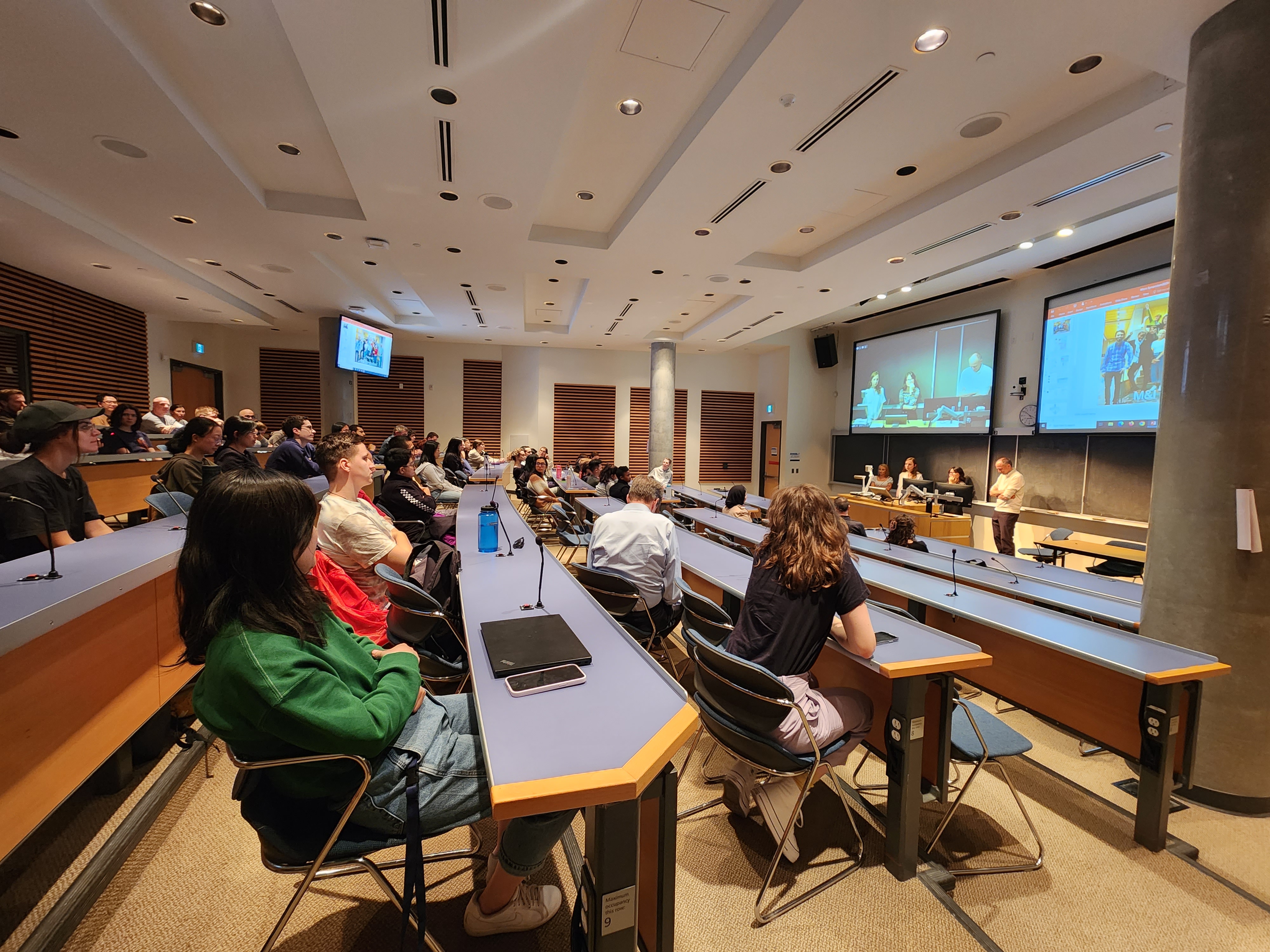 How to support the Department of Microbiology and Immunology's research and community!
The Department of Microbiology and Immunology excels at conducting internationally competitive research in environmental microbiology, synthetic biology, bacterial and viral pathogenesis, host-pathogen interaction, and systems immunology. We provide an exceptional and inclusive training environment that leads to careers in academia, biotechnology, health care, and government and non-government organizations.
With 25 research groups in various scientific disciplines, the department spans across multiple buildings on campus, including the Life Sciences Institute, Lower Mall Research Station, Michael Smith Laboratories, and the Biological Sciences building.
Our research groups are individual labs that support students with with an opportunity to focus on specific research ares such as:
Antibiotic Resistance and Biofilms
Bacterial Physiology
Cancer Therapy
Microbial Ecology, Diversity, and Geochemistry
Microbiome
Infection, Immunity, and Inflammation
Pathogenesis
Viruses
Through your contributions, the Department of Microbiology and Immunology will:
Continue to provide a stimulating and up-to-date environment in which to pursue a graduate and undergraduate research program
Support the next generation of multidisciplinary scientists who understand the value in and sharing of their research
Create unique ways to support and honour our diverse department community
Connect With Us!
Support the UBC Department of Microbiology and Immunology by connecting with our community.
Read and share our News or Research Publications
Attend our Seminars and Events
Reach out if you would like a news or social media spotlight. Email: Laryssa Vachon, Communications Coordinator
Attend the Dmitry Apel Memorial Seminar (est. 2013) - An annual seminar that honours the memory of Dr. Dmitry Apel, a PhD student in Dr. Erin Gaynor's lab who passed away in 2013. The seminar and its speakers are sponsored by Dmitry's family - specifically his sister and mother, Dr. Sabrina Apel and Dr. Maryana Apel. The goal of this seminar is to continue sharing Dmitry's love of pure science and the search for scientific knowledge for its own sake.
Dedicated Funds
Support the UBC Department of Microbiology and Immunology by donating to one of our dedicated funds.
Aaron William James Wyatt Memorial Fund      
Aaron William James Wyatt was a PhD student in the Dr. Bob Hancock lab who tragically passed away on December 24th, 2008. Aaron's family and friends have set up a memorial scholarship to support an annual lecture in his memory which we host every year.
Bill Ramey Award      
The Bill Ramey Award is an endowment established by students, family, friends, colleagues and the Department of Microbiology and Immunology in honour of Dr. Bill Ramey and in recognition of his enduring legacy at the University of British Columbia. 
The award recognizes undergraduate students who have made outstanding contributions to the Department of Microbiology & Immunology through dedication to student life and the development of our academic community. This award is granted to students who take on the role of ambassadors for the program through their actions, their enthusiasm, and their relentless drive to improve the learning experience of others.
Dottie Davies Award    
Scholarships totalling $3,500 have been made available through an endowment established by Dr. Julian Davies (B.Sc., Ph.D., D.Sc. 2003), in memory of his wife, Dorothy "Dottie" Davies (1932-2017), for outstanding undergraduate and graduate students in the Department of Microbiology and Immunology.
Dottie (née Olney) was born in Waltham, Massachusetts. She attended Dension University in Granville, Ohio, where she was a member of Kappa Kappa Gamma and participated in theatre productions as an actress and director. Dottie met Julian in New York City, and they married in 1957. Dottie supported Julian's work as a microbiologist, and they moved around the world and raised three children together while Julian pursued his research. This scholarship was established in recognition of the support and encouragement Dottie offered to the undergraduate and postdoctoral students, and their families, that she encountered. The awards are made on the recommendation of the Department of Microbiology and Immunology, and in the case of a graduate student, in consultation with the Faculty of Graduate and Postdoctoral Studies. (First award available for the 2023/2024 winter session).
The Microbiology & Immunology First-Generation University Student Mentorship Program    
The Fund was established to support the career and personal development goals of undergraduates and graduate students in the Department of Microbiology and Immunology who are first-generation university students. This fund was created to celebrate Dr. Mike Gold's tenure as Department Head from 2009-2019 and is intended to enrich the UBC experience for students who are the first in their family to attend university.
**A first-generation university student is defined as a student whose parent(s)/legal guardian(s) and siblings have not completed a bachelor's degree or an equivalent professional program. This means that you are the first in your family to attend a four-year college/university with the goal of obtaining a bachelor's degree.
Microbiology & Immunology General Donations    
In the Department of Microbiology and Immunology, we have a diverse group of students, researchers, staff, faculty and visitors. If you would like to support us but aren't sure how, you can make a general donation that will be used for what is needed most - ex. teaching equipment, social activities, student support, and more. These donations help us connect with our community and create the best experience possible for their time at UBC.